As I bantered back and forth with some people on our BGG Guild, I deemed lasd week to be "Spaceship Combat Week!" since we were planning on getting both the wave two X-Wing Minis and Gunship: First Strike to the table.  But then Shawn ditched our game of Gunship, seriously infringing on the significance of Spaceship Combat Week! and making me feel a little funny about bolding and italicizing it repeatedly.  But at least I still had someone willing to play…
Star Wars: X-Wing Miniatures [BGG]
Wave 2!  Woo hoo!  A-Wings, TIE Interceptors, Slave-I, and the freaking Millennium Falcon!  I still haven't picked up quite everything yet, but I have enough to put together a few squads, and was thrilled when Chris K wanted to play an Imperial squad he had come up with.
So, my Rebel list consisted of the Millennium Falcon being piloted by Chewie and with Luke on the guns, and it was loaded up with Assault Missiles and a Weapons Engineer.  His wingman was Wedge Antilles with a Shield Upgrade, R2-D2, and a Proton Torpedo.  The way I had it envisioned was that Wedge would do most of the damage, so in order to protect him even more, Chewie took the Draw Their Fire elite upgrade.
Chris was playing a semi-swarm squadron with 2 TIE Interceptors and 3 TIE fighters.  And since we were both trying out new ships, we decided to just go with a wide-open board and no real scenario other than to blow each other up.
I started off by easing my way out into the table while Chris ran his ships forward at high speed.  When we engaged, I had a really good turn.  Wedge got a significant hit on Backstabber doing 2 hits to him, and then Chewie used his Assault Missiles against another TIE fighter that was within range 1 of both Backstabber and a couple of other ships.  The missile only did 1 damage to the primary TIE, but the extra 1 damage that splashed out to the other ones was enough to eliminate Backstabber before he even got off a shot.
A few turns later, Chris got in a nearly-devastating hit on Wedge.  Even with the Shield Upgrade, a couple of TIEs took out his shields and smacked him with a critical hit.  It wasn't too bad, though (prevented him from taking actions until he rolled a hit on an attack die), and after 3 turns of taking green maneuvers, his shields were back at full (thanks to R2) and he was tearing up TIEs again.
In the end, I swept the table with the Falcon at just moderate damage (only 2 or so hull hits), so it was a good game for me!     
Time: 73 minutes
Score: Norton (Rebels) – Win; Chris K (Empire) – Lose
Ratings: Norton 9, Chris K 10

Oviously, I love X-WIng Minis.  So rather than re-review it here, let me make a few observations.  The 360 degree firing arc of the Falcon's primary weapon is awesome.  It's like breaking one of the main rules in the game, and with good guns (3 dice) and a big, fat body to soak up the damage, it's a force to be reckoned with.  Chewie's ability to basically ignore any crit was also nice, but didn't come into play all that often.  With the firepower that the Falcon has, I definitely want to try out Han next time.  Luke was also really nice to get a second chance on attacks when you miss, but he's also really expensive.  Draw Their Fire, however, seemed to be a total waste in this squad (mostly because it only works on critical hits, which I didn't notice when I chose it), so I doubt I'll use it again anytime soon

I've heard some disparaging thoughts about R2-D2 lately on the FFG forums, but on a ship that you really want to stick around (like Wedge) and especially with the Shield Upgrade, it seemed really nice to me.
But for the next Millennium Falcon list I want to try, I'm definitely going more for using it as the big weapon (with Han as the pilot) and bringing Chewie along as a co-pilot (to get a little bit of his protective ability).  And while the Falcon is drawing everyone's attention by lumbering up the middle of the board, I figured it would be nice to try out some A-Wings to flit around on the edge and still have the mobility to concentrate fire with the Falcon when needed.  So we'll see how that (or one of the other squadrons I've designed) works out next week.

Salmon Run

[
BGG
]

Next, I introduced Keith and Kenny to my new favorite race game, Salmon Run.  For the first game, I started us off with a short 'n easy board, which I won but wasn't very interesting.  But then, we put together a longer river (4 sections between the start and finish) that was much harder.
It was so hard, in fact, that we totally ran out of Fatigue cards well before the end of the game.  On one particular turn, I had just made a jump over a section of waterfall (which gave me a Fatigue, of course) when Kenny played a Current card that forced me to slide back down the waterfall space (which was marked with a Fatigue icon, giving me another Fatigue card) and which also happened to have a Bear standing on it (giving me, you guessed it, another Fatigue card), and then into the river space on the other side, leaving me with the necessity of once again jumping over the waterfall (giving me yet another Fatigue card) in order to continue my race.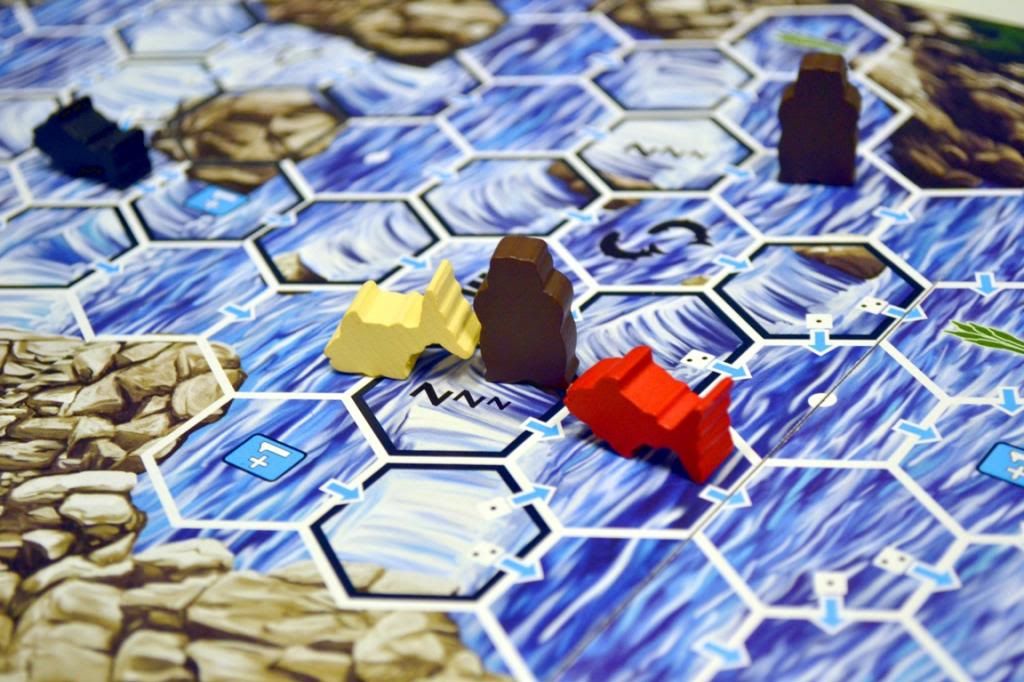 My disasterous slide back down the waterfall through a freaking bear!
Kenny managed to get through the double-tier of waterfalls with relative ease while Keith and I struggled to make any progress at all.  For a while, it looked like he was going to run away with it, but then he ran into some problems while we finally got over or around the rapids.  Kenny still won, but it was a lot closer than we figured it would be.
Time: 12 and 45 minutes
Game 1: Norton – Win; Keith* & Kenny* – Lose
Game 2: Kenny – Win; Norton & Keith – Lose
Ratings: Norton 8, Keith 7, Kenny 7.5

I just reviewed Salmon Run on my
last podcast
, of course, so there's not much more to say about it right now.  We actually got a little something wrong in this play, though.  Part of the reason we ran out of Fatigue (in addition to the crazy-hard run of waterfalls) is that I mis-remembered the fact that you don't have to play 3 cards on your turn, which gives you more room to not take on more fatigue (by not playing 3 swim cards) and to get rid of it easier (by playing just the fatigue cards in your hand, even if it's just 1 or 2 of them).

If there's any real negative that I've seen with Salmon, it's that the rulebook could be a little clearer and easier to reference.  It sort of has that Fantasy Flight problem of having huge blocks of text that teach pretty well but are hard to pick through when you need to find something in particular.  But still, it's a really great game.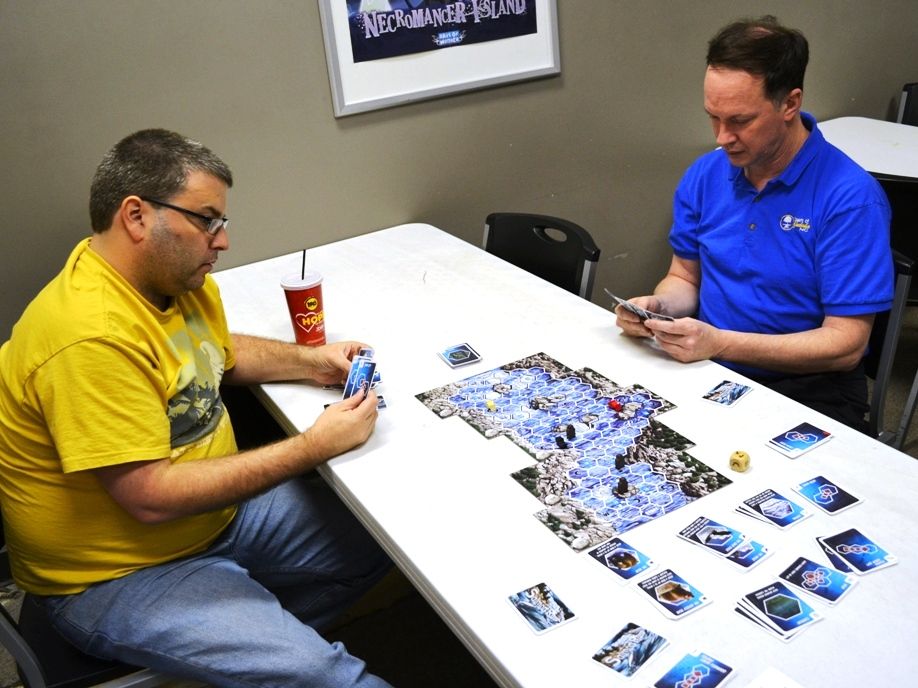 Suspense: The Card Game 

[
Designer's Blog
]

I also just talked about Suspense: The Card Game on the podcast, and I talked in detail about it a
few weeks ago
, so I also won't go into too much detail here.  But basically, to finish out the night, we pulled out the prototype copy of it that I made a month or two ago and played through a session.

Keith was new to Suspense/Xenophobe, so it was good to see a new perspective.  We played using the rules and theme that Kenny and I consider to be the best, and it went pretty well.  Kenny was in a position where he couldn't be beaten just a couple of turns before he officially scored enough points to win, but I really don't see that as a problem (as long as the rules explicitly said to declare a winner if they can show they can't be beaten.

And still, for what it is (a micro game of light deduction and bluffing with just 13 cards), I think it's pretty incredible.  Now I just need to convince Daniel (the designer) that our opinions on the rules and theme are correct!
Time: 35 minutes
Score: Kenny 12, Keith 6, Norton 5
Ratings: Prototype

Other Games Played
Ascension

Time:
 75 minutes
Score: Sean 68+, Shawn 68, Ben 55
Ratings: Sean 10, Shawn 10, Ben 10
Easter Island

Time:
 15 minutes
Score: James K* – Win; Chris – Lose
Ratings: James K 6.5, Chris 7.5
Flash Point: Fire Rescue

Time:
 41 minutes
Score: The Fire – Win; The Firefighters (Chris, Darren*, Keith, & Kenny) – Lose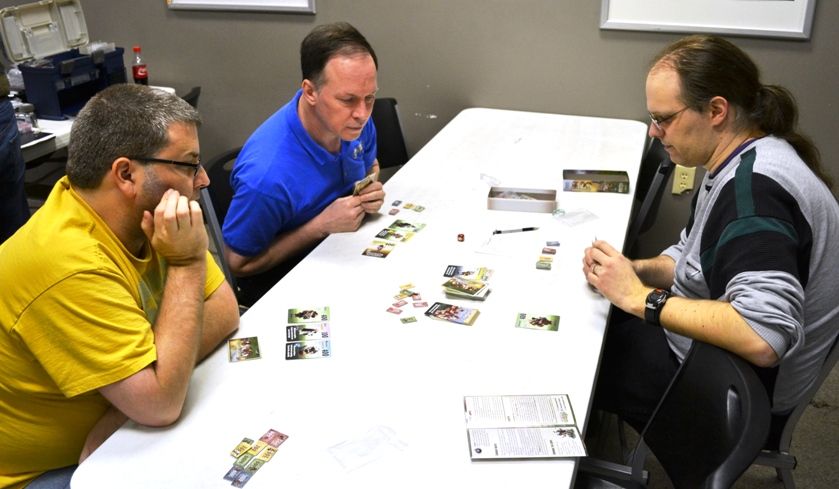 Ratings: Chris 8.5, Darren 7.5, Keith 7, Kenny 7.5
The Great Heartland Hauling Co.

Time:
 45 minutes
Score: Shawn* 40, Sean* 33, Ben* 30
Ratings: Shawn 8, Sean 9, Ben 9.5
Gulo Gulo

Time:
 14 minutes
Score: Ken – Win; Keith & Darren* – Lose
Ratings: Ken 6.5, Keith 5, Darren 6
Netrunner

Time:
 37 minutes
Score: Chris (Jinteki) – Win; James K* (Kale) – Lose
Ratings: Chris 10
Unexploded Cow

Time:
 23 and 27 minutes
Game 1: James K* 5700, Chris* 5200, Darren* 4700, Shawn* 4400
Game 2: Chris 5600, Ken* 5300, Keith* 4100
Ratings: James K 8.5, Chris 6.5, Ken 6.5, Shawn 8.5, Keith 6.5

* First play for that Person