Last week was the 6th Anniversary of my game group!  We had a little party with snacks and a cake, and Chris and I both put together some little challenges to have some fun.  We also fill out a little survey about our favorite games of the year.  And I'll write another article really soon covering all that sort of thing.  Buton top of all the special action, we also actually played some games, so let's cover that report-type action now…  
Shadows Over Camelot: The Card Game [BGG]
So this was like my 7th game of the Shadows card game, and just to make sure that I had a full picture of it, we also included the "Knights to the Rescue" cards and mechanic in the game.  But unfortunately, the result was still pretty much the same.  The game is just too easy, especially when you have 4 or more people involved.  I'll talk more in detail about it in my next episode of Exploring Games, though, so let's move one for now.
Time: 25 minutes
Score: Loyal Knights (Keith, Sceadeau*, & Tom*) – 7, Traitor (Norton) – 4
Ratings: Keith 6, Sceadeau 6, Tom 6, Norton 6

Guildhall [BGG]
We were still wrapping up the festivities and I was finishing up the vote tally around this time, so I pulled out my new copy of Guildhall and gave it a run with Tom and Darren.  If you haven't encountered it before, Guildhall is a relatively simple card game to play rules-wise, but there's a ton of interaction and interdependent actions that make it a little brain-burny at times.  You're essentially playing 2 cards a turn, which then end up going to your guildhall at the end of the round, but the strength of the action depends on how many other cards of that profession are already there.  And when you get all 5 colors of a profession, it completes a chapter that you can trade in for VP's.
We all sort of took turns making a little run from time to time, but I won because my run came last and was just enough to push me over the edge for the win.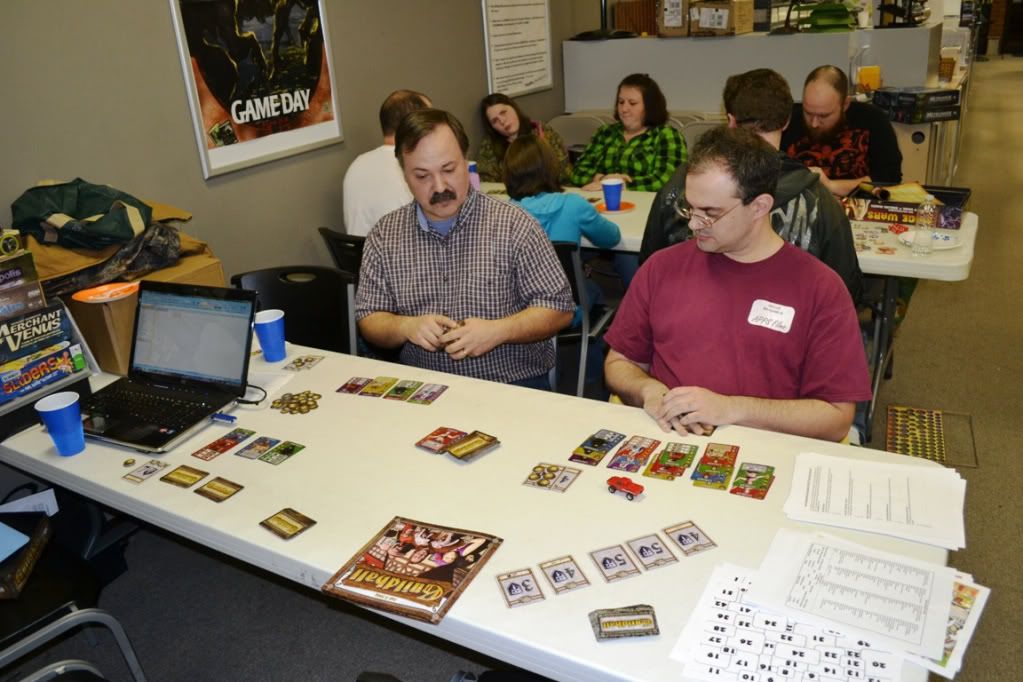 Time: 42 minutes
Score: Norton 20, Tom 19, Darren* 15
Ratings: Norton 7.5, Tom 7.25, Darren 7

I really like how Guildhall plays.  The actions and flow of the game are just so elegant and interesting, and while the choices you make are pretty tactical and have a pretty big random influence (due to the luck of the draw), I still feel like there's a decent amount of control and planning that you can exercise over the game.  Except, of course, that there's also a rather large element of player interaction, which you also have to account and plan for.
But the one big downside for the game is that it feels really slow a lot of the time.  Since you can't really plan your turns ahead of time (since cards move around so much and drawing cards is an action you have to choose to do), people have to do a lot of thinking and figuring out as they make their plays.  And for some people, this can even verge on the border of true analysis paralysis since there are so many options.  The overall play time of the game doesn't seem too bad in retrospect, but while actually playing, all 3 of my games so far have felt like they were dragging.
Ginkgopolis [BGG]
At some later point in the evening, Chip and I both mentioned that Ginkgopolis had sort of haunted our thoughts since our first play of it the week before.  So we sat down with it once again (along with new player Tom) to give it another go.
Taking my cue from my starting person cards, I went for a heavy "building" strategy, where I built upwards a lot and accumulated lots of cards in front of me throughout the game.  Chip, on the other hand, used more of an "urbanization" (building out) strategy, while Tom struggled to wrap his head around the game (as we did last week).  In the end, Chip won handily because he paid a lot more attention to building and controlling regions in the city much sooner and more effectively than I did.

Time: 63 minutes
Score: Chip 63, Norton 44, Tom* 41
Ratings: Chip 8, Norton 8, Tom 7.5

Despite its silly theme and stupid name, Ginkgopolis continues to impress me.  It's a rather abstract game with a lot of uncertainty and fiddlyness, but it's also pretty fascinating.  And I really love how quickly it can move (because of the simultaneous action selection element) once you understand what you're trying to do.  But I'm still forming my opinion of it, so I'll reserve final judgement for a little longer.
China [BGG]
And then to wrap up the evening, we played a couple of old favorites.  In China (which Chip and I both love and have a pretty good proficiency with), we fought practically to a standstill, locked in a tie that was broken by the fact that Chip used one less piece to score the same amount of points that I did…

Time: 29 minutes
Score: Chip 47+, Norton 47-, Tom 32
Ratings: Chip 9, Norton 9, Tom 8

Taluva [BGG]
And in Taluva, I remembered a rule that let me make a move to thwart Sceadeau's inevitable win, but basically gave the game to Keith in the process.
Time: 32 minutes
Score: Keith – Win (Towers & Huts); Norton, Kenny & Sceadeau – Lose (some worse than others)
Ratings: Norton 8

But I really can't say enough good things about either of these older gems.  If you haven't tried them out yet, you really need to track down copies and give them a shot.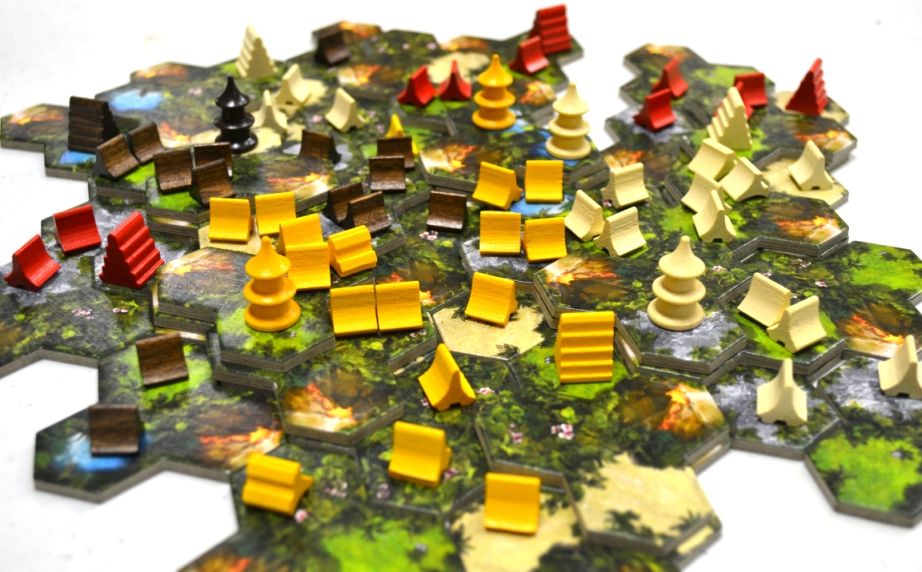 Other Games Played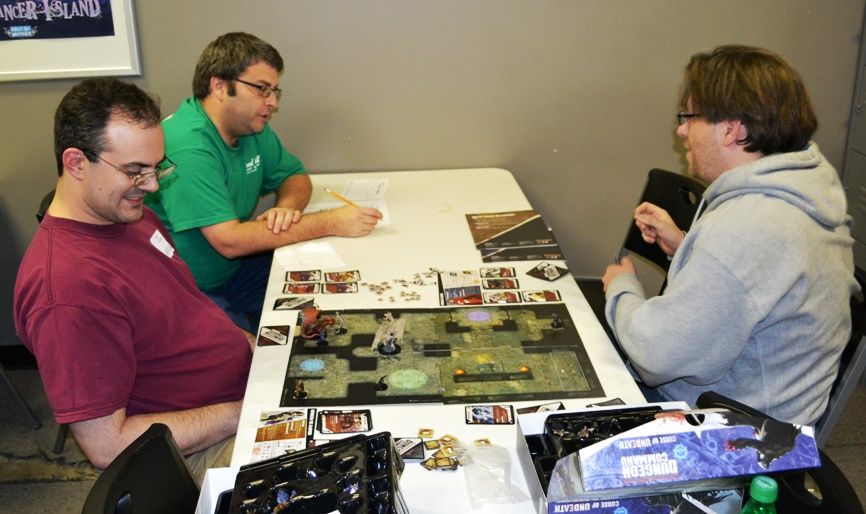 Divinare
Time: 23 minutes
Score: Chris 25, Keith 13, Mark* 11, James -9
Ratings: Chris 8, Mark 8
Dungeon Command
Time: 80 minutes
Score: Jay (undead) – Win; Darren (Cormyr) – Lose
Ratings: Darren 7
Medici
Time: 61 minutes
Score: Keith 79, Chris 75, Jay 74, Kenny 73, Shawn 60, Britt 56
Ratings: Keith 8, Chris 9, Jay 10, Kenny 8.5, Shawn 9, Britt 7


Scotland Yard
Time: 54 minutes
Score: Sceadeau (Mr. X) – Win; Police (Chris, Kenny*, Keith, Vanette*, & Stacy*) – Lose
Ratings: Chris 8.5
Sentinels of the Multiverse
Time: 54 minutes
Score: Heroes (Chris – Nightmist, James – Fixer, & Mark – Fanatic) – Win; Omnitron in the Realm of Discord – Lose
Ratings: Chris 10, James 10, Mark 9.5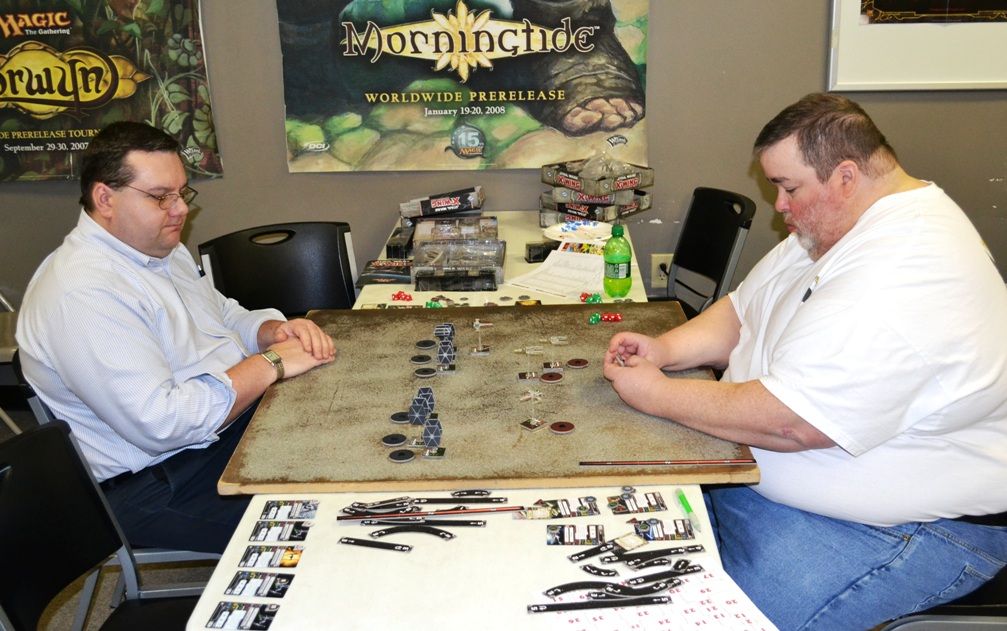 Star Wars: X-Wing Minis
Time: 120 minutes
Score: Britt – Win; Shawn – Lose
Ratings: Britt 8, Shawn 10
Vasco da Gamma
Time: 85 minutes
Score: Vanette 112, Stacy 94
Ratings: Vanette 8, Stacy 8
* First play for that Person