Pandmemic is, of course, my favorite game. And Z-Man Games just announced that for its 5th anniversary this year, a new edition of Pandemic will be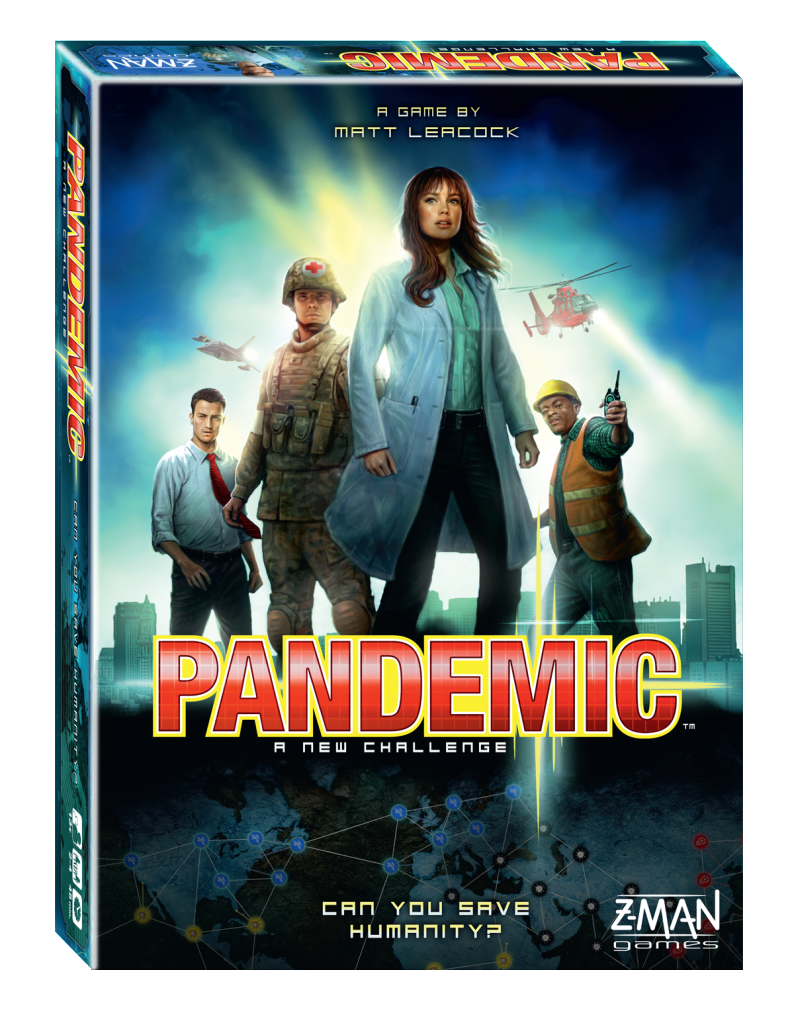 released with all new art and a new role. And it will hit stores next month! The press release reads like this:



After five years of Pandemic, hundreds of thousands of players have been contracted the virus! To celebrate this milestone, Pandemic has been completely re-designed. With new artwork by Chris Quilliams (Clash of Cultures, Merchants & Marauders), Pandemic will now have a more modern look, inside and outside the box. With two new characters: the Contingency Planner and the Quarantine Specialist, face the game in ways you never thought possible. Brand new challenges are waiting for you!




Becoming researchers and doctors has really hit a cord with players from all around the world. The idea that popped into Matt Leacock's head one day has now spread like a virus, faster than he had ever anticipated. Pandemic is one of the most successful games of the new game generation and the reference when it comes to co-op games. Since its release, Pandemic has sold hundreds of thousands of copies worldwide, and has been translated into 14 languages. The Pandemic infection has also spread to stores like Target, Toys "R" Us and Barnes & Noble.




2013 will be the year that you see the infection rate go up a notch! On The Brink will also have an entirely new look! With its three different gameplay options and the bio-terrorist, this expansion is known as a "must have" for the fans of the game. You will find it in stores very soon!




You still want more? Later this year, discover the newcomer in the Pandemic family: In the Lab. In this expansion, you will be transported inside a biotechnology lab in search of a cure. Put your lab coats on and get ready to look for a cure!

Be part of the Pandemic and spread the virus…of the game! Pandemic now has its own Facebook page HERE. Stay informed of Pandemic news and interact with other fans from around the world. As of now, you can view a video of Matt Leacock giving his impressions of the new edition of his game.




For those of you who are wondering, it will also be possible to purchase a compatibility pack for those of you who would want to play the new edition of On The Brink, but have the previous edition of Pandemic.




We are proud to present this new edition of Pandemic, which will be in stores this February, and we can't wait to tell you more about all the things we have planned.
So in addition to a new, improved edition of the base game and the first expansion, a new expansion will come out as well! Woo hoo! Sign me up for that action!!!
And if that's not enough, just last week, Gamewright announced that they would be producing
Forbidden Desert
this year as well, which is a new sequel to Matt Leacock's Forbidden Island. And from the preview video and its press release, it seems like it's not just the same game with new art, but that it's really a whole new game that is more just "inspired" by Forbidden Island.



Gamewright Embarks on a New Forbidden Adventure in 2013!



"No, no! The adventures first, explanations take such a dreadful time."
― Lewis Carroll

BUT, in this case the explanation is part of the adventure! We are bursting at the seams to tell you about our newest game: Forbidden Desert, a new family adventure game by renowned cooperative game designer, Matt Leacock. The game is a follow-up to our successful Forbidden Island but is not simply a second wind. In Forbidden Desert, players take on the roles of brave adventurers who must throw caution to the wind and survive both blistering heat and blustering sand in order to recover a legendary flying machine buried under an ancient desert city. This marks the first time that we have published a sequel to one of our games!

"When we launched Forbidden Island back in 2010, we had an inkling that we had hit game on our hands, but never to the point that we'd be prompted to publish a sequel," says Jason Schneider, our director of product development and marketing. "I'm beyond thrilled to see this vision come to fruition."

One of the key challenges we posed to inventor Matt Leacock was to create a game that would contain familiar elements while offering up a completely different in-game experience. "In addition, we wanted it to be simultaneously approachable to new players while upping the ante for those who felt they had mastered Forbidden Island," says Schneider. All this resulted in a fresh new game based around an innovative set of mechanics, such as an ever-shifting board, individual resource management, and unique method for locating the flying machine parts.
So if you're a big Matt Leacock fan (or just a fan of cooperative games), 2013 is looking really good!