No, I'm not dead or anything like that. My absence from this blog (and my poor, long-neglected podcast) over the last couple of weeks has been due to my wife and I taking our little girls (Corinne, age 2, and Samantha, age 4 & a half) to Walt Disney World for 6 amazing days in their various theme parks. Gwen and I had been twice before together, first on our honeymoon and then again 5 years later), but the last was nearly 12 years ago, and never had we gone before with small children. So we went in being reasonably well-informed and making some educated guesses about how the experience would be different with the little ones as our real focus this time around.

Now, I'm not going to go into any sort of play-by-play of what all we did here. I was actually pretty good throughout the trip of going through pictures and posting daily updates to Facebook about that. So if you're interested, just friend me there to read my feed and get it. But instead, I think I'll break down a few things that stick out in my memory and I'll "review" them briefly.


The Rides!

So again, remember that we have two little girls, so we didn't make it onto any of the "thrill" rides like Space Mountain, Rock 'n Rollercoaster, or Tower of Terror. And due to the fact that all of the FastPasses were already gone for the "new hotness" Toy Story Mania, we didn't even get to go on that. But here are a few we did make:

Soarin' – This is sort of the other "hot" ride right now, but all of us were pretty underwhelmed by it. It's supposed to make you feel like you're flying by suspending you in the air with your feet dangling below the seat and putting you in front of a huge screen of footage taken by people on various flying machines. But as even my 4-year-old said, "it's just a screen", and when you're on the 2nd or 3rd row of seats, it's pretty distracting to see other people's feet dangling there above your head obscuring part of the aforementioned screen. If you can FastPass it and not have to wait, then go for it, but I'd feel really disappointed if I had to wait more than 20 minutes or so for it.

Under the Sea~Journey of the Little Mermaid and The Seas with Nemo & Friends – I just don't see the purpose of these rides, where they basically tell you the same story as the movie (or show you similar scenes to it) with silly animatronic or video-screen characters. We walked right into both of these, which wasn't so bad, but for both we had to navigate through an endless series of snake-like railings, designed to herd large lines of people into as little space as possible and be as obscuring as possible to prevent you from knowing exactly how freaking far it is to the sweet, sweet end. And we could only imagine the utter dismay we would experience if we actually had to be standing in a line filling all that space for hours on end rather than just walking quickly through it. And then, to have a totally uninspired ride that was a pale shadow of the movie we all loved and which lasted only 5 minutes? It would be truly horrible.

Spaceship Earth – This was our most-ridden ride over the week. Overall, it's a pretty cool ride featuring animatronic depictions of the development of mankind and our methods of communication over time, but the really cool part was the little activity that you do at the end. During the last leg of the ride, where you're not really looking at anything other than some pretty lights, you answer various questions on a computer screen built into the seats about what sort of things you like to do. And then, using little cutouts of your faces taken at the beginning of the ride, you get to watch a customized little animation sequence showing you your "world of the future".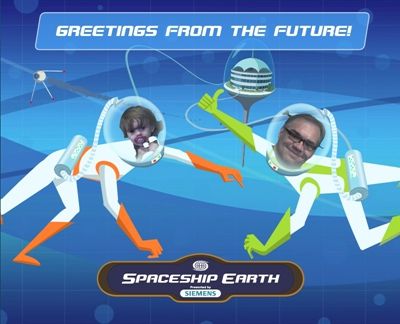 Click the picture to see one of my "futures", or
click here
for one of Gwen's
Magic Kingdom Railroad – We were hoping that the train all around the Magic Kingdom would be a nice break from walking around and also let us have a nice view of the park. Unfortunately, the only thing you can really see from it are trees and occasionally a delivery truck or two. I guess that they made a little effort to have some Native American villages and animals in the Frontierland section of it, but the rest is pretty pittiful, and not even my little girls found much excitement in the ride.

Astro Orbiter, Magic Carpets of Aladdin, & TriceriTop Spin – If you like going up and down in a small vehicle while spinning around and around, then you'll like these rides. Astro Orbiter is a little different in that it's really high up and goes really fast (uncomfortably so for Gwen and some others), but they're still basically the same thing. But for little kids, it's a nice "thrill" when they're not big enough for the real thrill rides.

Living with the Land – I call this one out specifically because Samantha said that it was one of her favorite things. Basically, it's a boat ride with some animatronic scenes of different climates and regions, all talking about how good nature is and how we should treat it better (yadda, yadda, yadda…). But the really cool thing is that the ride also goes through this big greenhouse area where Disney-sponsored scientists are actually working on hybird plants and growing techniques. It's quite fascinating, really.

Kilimanjaro Safari Expedition – One of the two highlights of the whole trip for me was definitely the Safari ride. It was a little bit of a wait, but was well worth it, especially since we saw an unusually high number of active animals on our trip (assuming that the "guides" don't tell everyone that).



Other rides worth experiencing:
"it's a small world", Tomorrowland Transit Authority PeopleMover, Mad Tea Party, Buzz Lightyear's Space Ranger Spin, Haunted Mansion, Journey Into Imagination With Figment, The Great Movie Ride
Rides not to waste your time on:
Jungle Cruise, Gran Fiesta Tour Starring the Three Caballeros (in Mexico),
The Shows!
Finding Nemo – The Musical
– This was my single favorite thing from all of Disney. It's basically just a 30-minute re-telling of the Finding Nemo story, but it has two really cool things going for it. First, they've made it into a musical with some really good songs. And even cooler, perhaps, is that it's all performed live with these really awesome, handheld puppets that looked just like the characters in the movies. But even better was the fact that the puppeteers were also acting out everything they were doing as they sang
and
ran the puppets. So you could either watch the puppets or the actors or switch between them to get lots of different facets of the performance. And everything about it (acting, singing, songs, puppets…) was just truly exceptional.
Festival of the Lion King
– I'm pretty sure this has changed since the last time we were here. I seem to remember it as being done with people on stilts in the cool costumes and makeup like they have in the broadway show. But this underwhelming show had 4 huge animatronic (but rather static overall) characters in the 4 corners of the room with a bunch of humans in fancy outfits singing songs from the movie. It was okay, I guess, but I was definitely disappointed in it considering it was a live show.
Beauty and the Beast – Live on Stage
– This is a 30-minute stage performance of an abbreviated version of the movie. There's nothing particularly "special" about it, other than the fact that the kids get to see the "real" Belle on stage singing and all. Again, the quality of the live performers really make this, along with nice costumes and really liking the original songs.
The Hollywood Public Works Street Shows
– In Hollywood Studios, there's a little troupe of comedic actors that drive around and put on shows 4 or 5 times a day. Their shtick is that they're public works guys who are fixing things around the park, but rarely does any actual work get done. One of my friends from high school is part of the group (Brian Weckerly), and I really wish that we'd been able to catch more of them!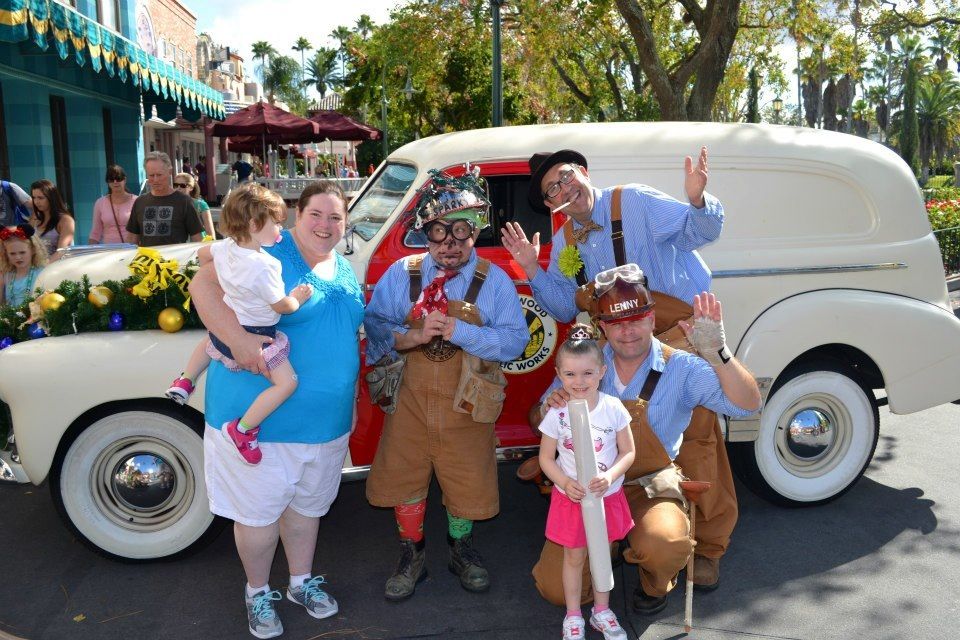 Disney Junior – Live on Stage!
– Our little girls watch a lot of Disney Junior, so we were really glad to see this little show, featuring the shows Mickey Mouse Clubhouse, Little Einsteins, Jake and the Never Land Pirates, and Handy Manny. It was a pretty simple puppet show performed on an elevated stage with one live actor sort of tieing it all together. We haven't taken the girls to see any of those travelling children's shows, but I imagine it would be a lot like this, with lots of little kids singing and dancing to the songs you already hear all the time on the TV. The worst part was that you actually had to sit on the floor, I suppose to protect the illusion that the puppets were on the stage rather than on someone's hand poking up through it.
Voyage of The Little Mermaid
– This was a really neat show. Again, it was live (with the "real" Ariel) and featured a very brief (15-minute) abbreviated version of the movie story. What made it really cool, though, is how it involved a number of special effects to enhance the experience. From real water falling around the stage, to smoke and lasers, to puppets performing in a black light that almost completely hid the puppeteers, to Ariel changing from a mermaid to a human right in front of your eyes, it was a really great experience that I just wish lasted longer.
Muppet*Vision 3-D
and
It's Tough to be a Bug!
– When we went to Disney 12 years ago, the cool new thing was a number of interactive 3-D shows (these two plus Honey, I Shrunk the Audience). Well, 3-D movies have definintely gone mainstream now, so that's not as big a deal, but the theater/environmental enhancements (like having animatronic characters or puppets in the theater with you, or having water sprayed on you when a bug spit on the screen) still make them pretty cool. The Bug's Life one was actually pretty intense for Corinne, but we still had a lot of fun with them.
Monsters, Inc. Laugh Floor
and
Turtle Talk with Crush
– These shows are sort of the next step in interactivity, where the characters actually respond to or incorporate audience input. The Monsters, Inc. show let you text in jokes that one of the characters "performed" later on, which was pretty neat. But Turtle Talk was really cool because Crush actually had a conversation with the audience (those of us in the "human tank"), calling on specific kids and answering their questions (Samantha got to ask him one the second time we saw it, and a little oddly, she found out that his favorite color is purple, not green). It was one of the best things we saw all week, and I'd say it's a must-see for any school-age kids or younger.
The Candlelight Processional
– During the holiday season, you can catch this really great show that involves an orchestra, singers from the park and from high school and community choirs all around the country, and a guest celebrity reading the Christmas story. It was very well done, and I was especially excited because the celebrity during our stay was Neil Patrick Harris.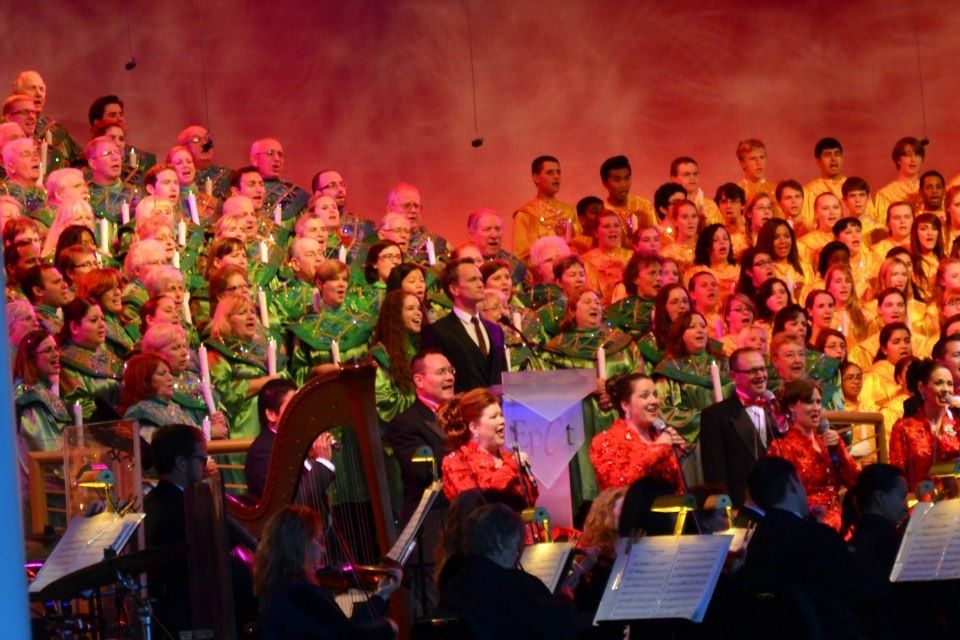 Look! It's Neil Patrick Harris!
The Attractions!

I'm sort of sticking anything in here that's not specifically a ride or a show…

IllumiNations: Reflections of Earth (Epcot Fireworks) – Because we had a dinner deal that included eating at Le Cellier and attending the Candlelight Processional, we also got "preferred seating" for the fireworks in Epcot that night. It was right there at the entrance to the World Showcase between the two gift shops, and it gave a really great view of the "big picture" of the whole event (even if it was cold as the dickens that night). We actually stayed to see them one other time, and even though we couldn't see everything as clearly, we were actually closer to to the fireworks that time, which was another great perspective. Overall, the show is just great, involving lots of big fireworks, a cool planet-earth-shaped, light-up thingy that floats around on the lake, and some talking and singing. And because it was the holidays, there was even a few extra minutes of fireworks, so the whole shebang was even better!



Wishes Nighttime Spectacular (Magic Kingdom Fireworks)
– Corinee didn't like the fireworks in Epcot very much, mostly because they were so loud. But in the Magic Kingdom, from the moment that Tinkerbell flew off the spire of Cinderella's castle, she found these fireworks to be a lot more fun. They weren't quite as dramatic or huge, but this show seemed to capture the theme of wishes coming true pretty well, with lots of fireworks that looked like shooting stars and such. And what they do on the castle itself with video projection and lighting is just beautiful.
The Osborne Family Spectacle of Dancing Lights
– Speaking of holiday lights, this display was just incredible. A large portion of the "back lot" in Hollywood Studios was covered in millions of holiday lights that were brought to Disney after the family that used to display them in Arkansas had to stop because the neighbors and the town they lived in sort of demanded it. But seeing all those lights, especially as they "dance" to the music playing, was really incredible.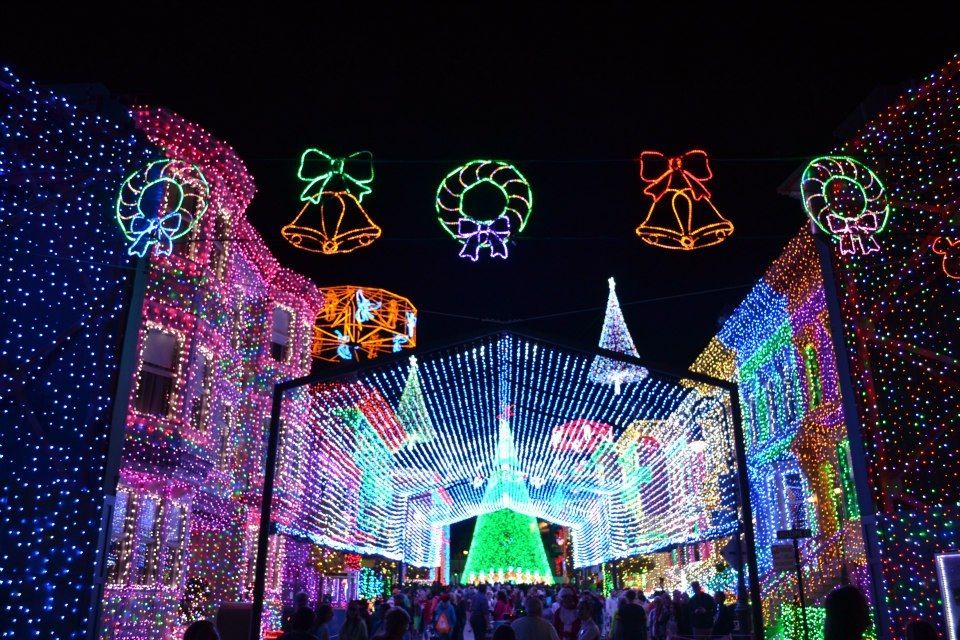 The Boneyard Playground
– In the Dinoland, USA portion of Animal Kingdom, there is this enormously huge playground. It's got things to climb on, lots of slides and tunnels, and even a bridge over the main thoroughfare that leads to a huge "sandbox" (which is actually filled with small rocks rather than sand, so it's a lot cleaner) where you can dig around big dinosaur bones. The girls loved it, even if our hearts did skip a few beats when we weren't able to locate Samantha from time to time.
Character Dining (Breakfast with the Princesses at Akershus Royal Banquet Hall, Winnie the Pooh at The Crystal Palace, & Chef Mickey's)
– Okay, just in case you haven't been to one of these, here's how it goes: The meal is a buffet, but you can't necessarily just run off to get your food as soon as you get there. First, you have to scope out where the various characters are in relation to your table, because when they get around to you, everything has to stop, you have to have the autograph books ready to go and the camera in-hand while your children hug on and pose with whoever it is and you snap pictures like a crazy person. And if you're like us, with 2 small children who really can't do much getting of food for themselves, mom and dad will take turns making 38 or so quick trips to the serving line to get everyone's meal, most of which will either be forgotten in all the excitement of the next character to pass or will at least be stone cold before you get around to it. But still, when you see how happy they are getting to meet the "real" Mickey or Snow White or whoever, it's all worth it.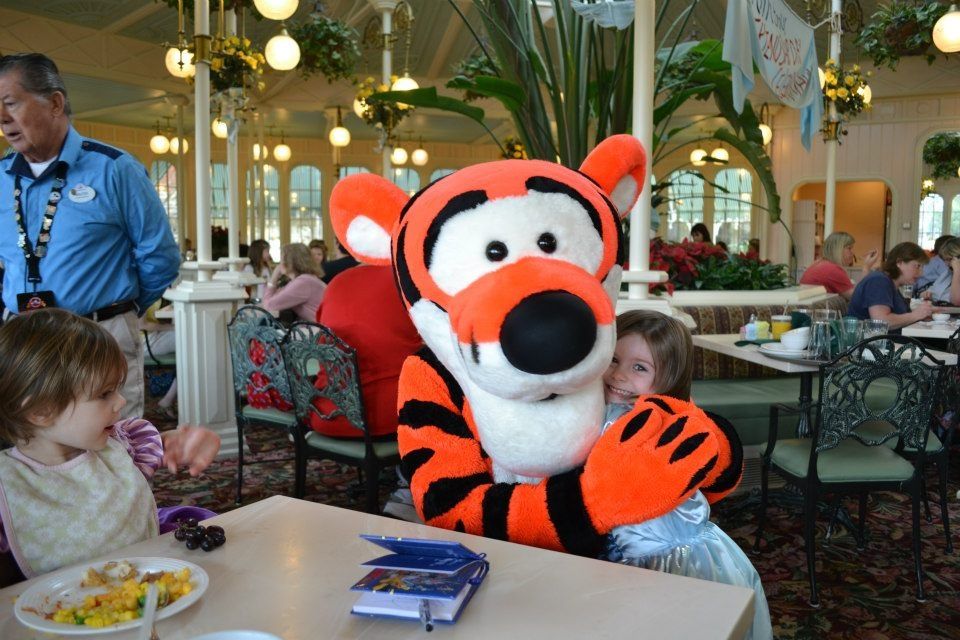 The only thing I don't recommend, however, is having a waitress dump a full glass of orange juice on your 2-year-old at the Princess breakfast. It sort of puts a damper on her mood (but it does get you some free clothes, I suppose)…
The Baby Care Centers!
– Okay, so if any of your children are still in diapers (or have just recently graduated from them), then the first thing you need to locate in each park is the Baby Care Center. All of them have at least multiple changing tables, a bathroom, and some basic supplies (just in case you forgot something). But especially in Epcot and the Magic Kingdom, there's also a heck of a lot more. Things like crayons and pictures to color, a movie running in a waiting/resting area, nursing areas, and more than anything else, a relatively quiet place where you and your small children can take a little break and collect yourselves. We joked all week that our favorite part of Disney World were the Baby Care Centers, and the funny thing is that it's almost sorta true.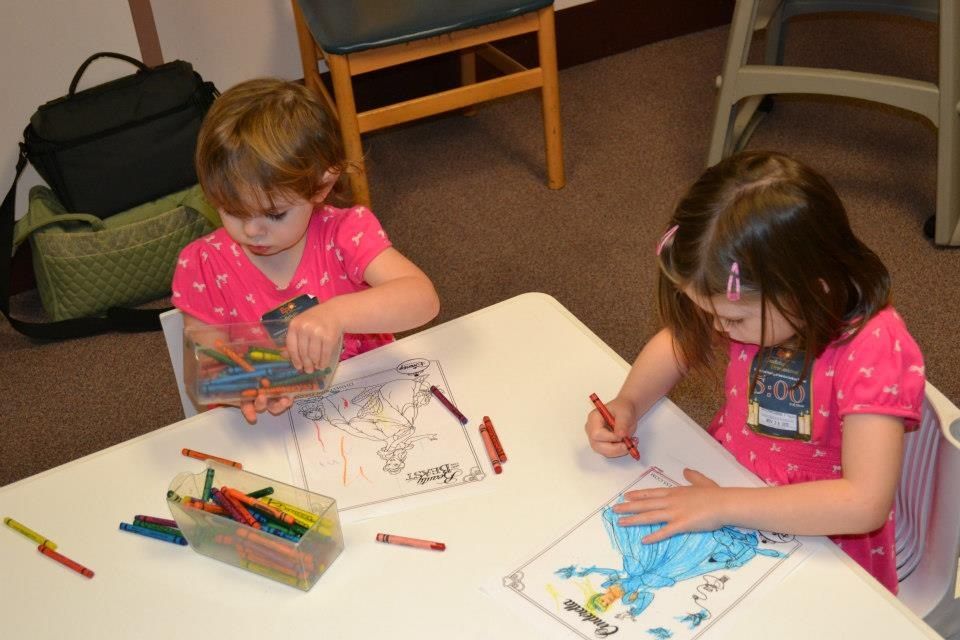 They didn't want to leave the Baby Care Center sometimes…
Bibbidi Bobbidi Boutique
– For all aspiring young princesses, going to get a makeover from your own personal Fairy Godmother is absolutely essesntial. There was a mess-up with our appointment on our first day (it was supposed to be at Cinderella's castle, but the reservation was made for the one in Downtown Disney), and I'm not fully sure if it was their mistake or our travel agent's. But we were able to get another appointment for later in the week, and Samantha had a total blast getting all made up like that. And the neat thing is that the hairdo lasted for at least two days, and may have gone longer if we'd let it.
Samantha in the middle of her transformation from regular little girl to little princess…
The Food!

We had the middle-tier dining plan (1 table service, 1 quick service, and 1 snack per day), and made good use of it both for the character meals mentioned above and for all sorts of other things. Here's my take on where we ate:

Le Cellier – This is the big-deal steak house in the Canadian Pavillion in Epcot. And for Gwen and me, it was rather incredible. We both got steaks (of different types), and they were wonderful. But the kid's menu
was significantly less impressive, where the best sounding item for our girls was a bowl of elbow pasta with ground-turkey tomato sauce that tasted not too dissimilar from cardboard. And in general, I'd say that most of the kid's meal choices in Disney were pretty terrible. It doesn't really make sense to me, though, since kids are sort of the whole point of Disney, but consistently, we found that the alternative choice for children was subpar in pretty much every way.

Cape May Cafe – As amazing as Le Cellier was, the real cullinary highlight of the week for us was Cape May's in the Beach Resort area. I've been to seafood buffets before, but none that could compare to the quality, variety, or taste of what we found here. And to top it off, the best single food item that we had in the whole trip was the Flan, for which Gwen and I both went back for seconds (or maybe even thirds).

All Star Movies Food Court – We ate a lot of meals in the food court at our resort, and for the most part, it was pretty good. Again, the dining plan was a real winner here, especially since it included a dessert, and the little dessert part of the court had these incredible, hand-made ice-cream sandwiches using two huge cookies and 2-3 scoops of ice cream that would count just the same as a little bag of snacks or something. Unfortunately, what we didn't fully realize until very late is that kids do not have to get kid's choices to use their quick service meals. So instead of getting 3 or 4 of the crappy, overdone pieces/parts chicken nuggets that they offered with the kid's meal, you could get 8 pieces of beautiful breast-meat nuggets and fries intended for adults instead. The only downside is that the kid's meals always got two sides, and the adult meals only got whatever they included, but still, the quality was much better, and most of the time our two girls could eat off the same adult meal instead of using two kid's meals.

Tony's Town Square Restaurant – To sort of round out our table service meals, our travel agent chose a couple of other restaurants for us. Tony's Town Square was the biggest disappointment. It was sort of cute in there (themed around Lady and the Tramp), but the food was just not that good. As usual, the girls had bland pasta that they barely touched, but even Gwen's Chicken Parmasean was bland and lacked sauce for her pasta. My meatball sliders were pretty good, but they were barely big enough to count as a meal. We had much better Italian food at Carrabba's the night we got into Orlando, and really, I can't remember any local or chain Italian restaurant that was any worse than Tony's. So just don't bother; use your money (or meals) somewhere better.

Rainforest Cafe® Animal Kingdom – And on our Animal Kingdom day, we used our meals at the Rainforest Cafe. It was pretty good, but I can't say that I was overall very impressed with its quality of food. It definitely has atmosphere, however, and the girls were pretty fascinated with all of the animals, plants, sights, and sounds build into the room.


The Ammeneties!

All Star Movies Resort – We stayed all week in the Toy Story building of the All Star Movies resort. The room was pretty small, but it was serviceable and nice, and the cool little "Andy's Room" scene in our courtyard (with enormous Woody and Buzz) was really cool. If all you're doing is sleeping there and spending all your time in the parks, then it's probably okay, but we felt really cramped in it. And it was also about as far away from The Magic Kingdom and Epcot as you could get.



Oh, and the "heated pool" was a bit of a misnomer. If the pool was heated (especially on the cool evening we chose to try it out), it was not heated to a perceptibly warmer temperature that I would have expected a non-heated pool to be. The kiddie pool was heated, but since it was only a foot deep (which would not cover all of me even if I laid completely flat in it), it didn't help much to keep us from freezing.
Disney Public Transportation
– And since we stayed in Disney itself, most of our travel between the resort and the parks was done on the bus system. We also used the boats to get to dinner at Cape May's, and we rode the Monorail just because we wanted to one day, so we sort of pulled off the whole public transportation hat trick while we were there. And for the most part, it's really great. Busses (or whatever) some pretty frequently, and they scale up to meet the need at peak times (they even brought in charter busses from a local company they contract with on Saturday night).
Now, before I say the next thing I'm going to say, let me be clear that I totally have respect for people with disabilities and wish them every convenience to make their existence, and their trips to Disney, better. But at the same time, there are a crap-ton of people zipping around Disney in those little scooter doo-hickeys that don't seem to have any business on them. And if it's not even bad enough that you have to dodge them everywhere you go, they even get preferred seating on the busses! One night when we were trying to get back to our resort while I was holding a sleeping (as in, 32 pounds of dead weight) 2-year-old
and
after we had waiting 20 or more minutes for the next bus,
three freaking scooters
wheeled their way past everyone to get into the little preferred loading area. And as if it's not enough that they tied up 9 seats-worth of space for the actual machines, all of their families got to load at the same time, filling up every single seat on the lower section of the bus, and some even up in the back (and one dude on a scooter didn't even ride on it during the trip, her hopped out after parking it and took up
another
seat). Thankfully, some kid soul up in the back there gave me their seat when they saw that I had a sleeping child (and possibly noticed that my arms were just about to fall completely off at the shoulders if I didn't have a break!).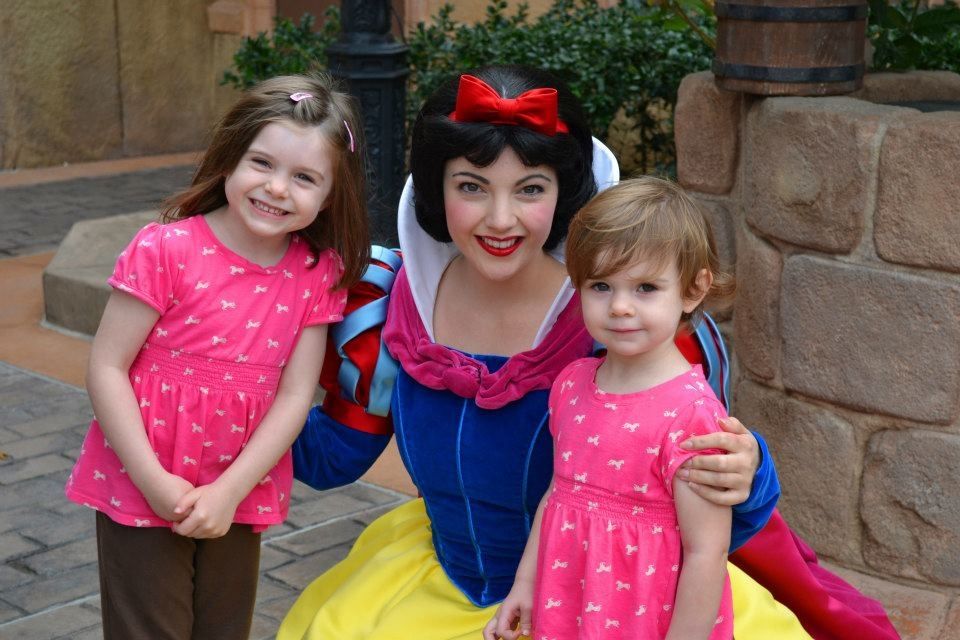 Plans for Next Time!

First of all, we need to take grandparents. Not only because of the obvious possibility of babysitting for a date night or two, but also because one of them might be able to use a scooter! Because as I just pointed out, you don't actually have to be
in a scooter
to get preferred seating, you just have to
be with someone
who is in a scooter. Okay, maybe that's going a little too far, but it sounded good that last night as we waited for busses.
Seriously, though, we're definintely going to look into a nicer resort next time. A suite with a seperate room for the girls would be great. Especially if we could get something in a bit of a more convenient area. The Beach Resort looked nice, and something like the Contemporary would be pretty cool. But we haven't even looked into any of that yet, so we don't really even know what sorts of room are available in the different places.
There are certainly a lot of rides and attractions I'd like to see, and I want to try out the Sorcerers of the Magic Kingdom game and the Phineas and Ferb: Agent P's World Showcase Adventure thingy, all of which will be more likely when the girls are older (especially since Corinne is really tall for her age!). And again, we could make some better choices for some of the restaurants, and we'll definitely buy less "kid's" meals.
But overall I think our Disney trip was pretty successful. It does seem to us, however, that it was a little less special or "magical" than it was the last time we came. At first, I figured that it was just the hassle of having to deal with two little ones during the trip. But since we've been back, some other people we've talked to mentioned how the whole Disney experience has tarnished just a little bit over the last few years. Maybe part of it is that the parks are getting a little older and showing some wear. And while it's a little hard to define, both of us also seemed to feel that the overall quality of the service from employees and friendliness we experienced from them was notably less impressive than it used to be.
But, of course, it's still Disney World, and we're already thinking about our next trip in 2 or 3 years from now. Now that we know what we're doing a little more, we need to use this knowledge before it's gone!