Woo hoo! I'm going to keep up with my game night reports for a change! And this week was a pretty darn good one, getting in plays of the Game of the Month!, an old favorite, and a fantastically promissing game currently up on Kickstarter!

Lancaster [BGG]

I was beginning to think that my eternal role in Lancaster would be that of the bridesmaid, since literally all 3 previous plays had me ending in the 2nd place position. But after trying something that didn't particularly work very well last week, I approached the game with a slightly different take on it this time around. Taking a cue from Chris' last game, I spent my first couple of turns building up my infrastructure, both in getting as many knights as I could and in adding more banners to my castle. And in the castle, I went for money and squires, since they are probably more universally useful than the other three options.



Then, starting on the 3rd and 4th turn, I started to work hard to collect nobles and develop my knights more, also keeping aware of the laws that were in place or up for voting and trying to align with them as much as I could. So then in the endgame, I was able to pick up the last few nobles I needed and throw into more battles to rack up a few more points there as well.
So as we finished up the game, I ended up getting the maximum endgame points possible, having the most strength of Knights and all of my castle constructed, along with all 9 nobles. Oh, and I won, of course. It was pretty cool.
Maxing out!
Time: 65 minutes
Score: Norton 124, Chip 96, Keith 75, Chris 61
Ratings: Norton 7, Chris 7.5

Unfortunately, though, I don't know that it reflected all that well on the game. What I'm relatively sure of now is that Lancaster is just all about optimization. There's really not a lot of variability in the strategy of the game, because you sort of have to just do everything if you really want to do well. And even more so, you really need to have the knights and castle in place first to be really successful in doing whatever else you're trying to do. So, rather than being able to specialize in one thing or the other or even have some choice in the order you do them (as I thought might be possible in my first couple of plays), now I think you're pretty much going to have to do the same thing in every game in order to do well.
Chris' performance in this game is sort of an example of that. Last week, he was the runaway leader doing the same thing I did this time. But when he tried to do something different this time (and didn't focus early on getting lots of knights), he didn't do well at all in the game. So, pretty obviously to me, even really good players don't have much chance when they don't follow the "script" of the game.
So again, it will probably always just come down to whoever can do "everything" most efficiently, and maybe catch a few breaks here and there in how the votes go and how much other players screw with them. It's still a good and solid game, but I think that the shine is really wearing off for me a little.
Mission: Red Planet
[
BGG
]
From there, I pulled out an old favorite of mine, Mission: Red Planet. It's a wonderfully-themed, area-control game that uses a great hidden-role-selection mechanic to really drive the action. It's quick and efficient, lasting just 10 turns and right at an hour, and it's usually a lot of fun. The only real issue I have with it is that there are some "Discovery" cards that you can draw using one of the roles, which are then placed next to an area on the board and will cause some crazy effects at the end of the game.
My overall strategy in Mission: Red Planet is to get as many people onto the planet as I can, trying to focus on the roles that let me put 2 or 3 astronauts onto rockets whenever I can. When an astronaut lands in a new area of Mars, a discovery tile is drawn that determines what kind of resource is there (ranging from value 1 to 3). And in my initial landing on the planet, I found myself in a lot of the 1-point-value areas, but since there is actually a 9-point bonus for the player who collects the most 1-point tokens (ice), I went for it pretty heavily.
One other type of card that you might draw are Bonus cards, which basically give you bonus points at endgame for completing certain conditions. My initial card was pretty weak, so I used the Scientist role twice in the game to draw two more. One was a Discovery (that didn't do a lot for me), but the other was another Bonus card that was pretty nice.
So I felt pretty good about my position as the game came to a close. But what
should
have been a grand victory, however, was somewhat spoiled when a discovery card on a location I was not participating in gave everything there 6 extra points, giving Kenny the extra lift he needed (in addition to his huge pile of 3-point tokens) to tie with me.
Officially
, there is no tiebreaker, so Kenny and I
officially
tied. But
un
officially, I had more astronauts on the planet, so I sort of feel like I
un
officially won…
Time: 56 minutes
Score: Norton 53 & Kenny 53 (tie), Chip 43, Keith 25
Ratings: Norton 9, Kenny 8, Chip 8, Keith 8

Obviously, I really like Mission: Red Planet. But rather than go in to all the reasons here, I'll be reviewing it soon on the next episode of Exploring Games, so stay tuned for more!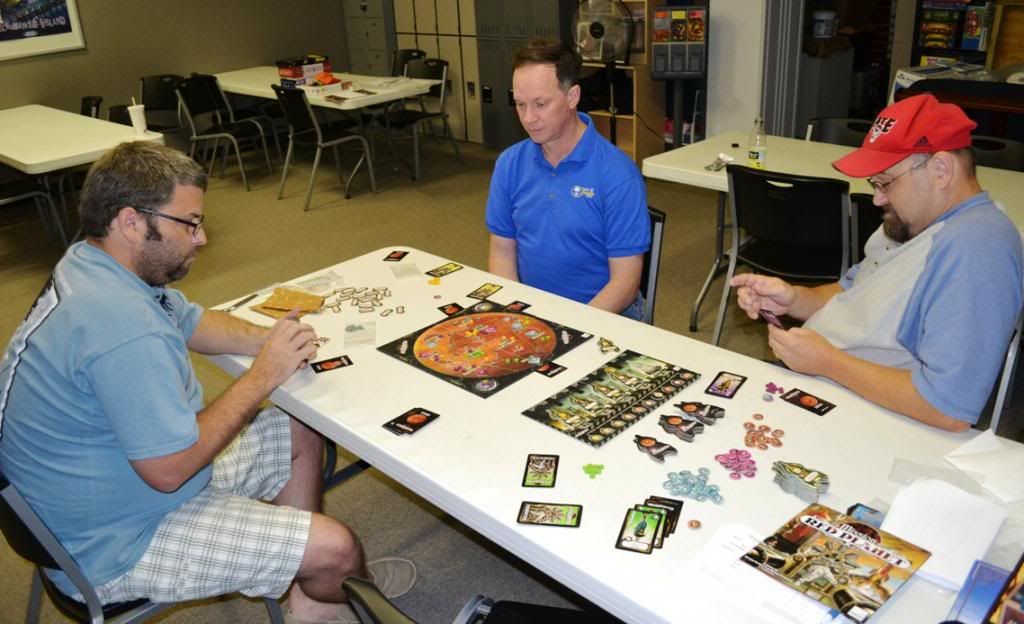 The Great Heartland Hauling Co.
[
BGG
]
And then to finish off the night, we pulled out The Great Heartland Hauling Co once again. The same four of us had played a couple of times last week, and we were all eager to have another go with it. Despite having to go all the way down to 1 point in the early game loading my truck, I then delivered nearly all of them, one after another, without picking up any more goods, to finally reach 31 points and trigger the endgame. Everyone was really close (especially Chip), but I still managed to hold onto the lead and get the win.
Going in debt to load up the truck…
Time: 27 minutes
Score: Norton 30, Chip 27, Keith 25, Kenny 21
Ratings: Norton 8, Chip 8+, Keith 8, Kenny 8

The Great Heartland Hauling Co is a really, really good game. It's so elegant and elemental; the boiled-down essence of the whole pickup-and-deliver mechanic. It's incredibly simple, but still has a lot of the depth of much longer and more complicated games. And as we talked afterwards, all 4 of us said that we either had already or were planning on backing it on Kickstarter, because despite the fact that the group will have more copies than we'll probably need, everyone thinks that it could have appeal to other (possibly non-gamery) people in our lives as well.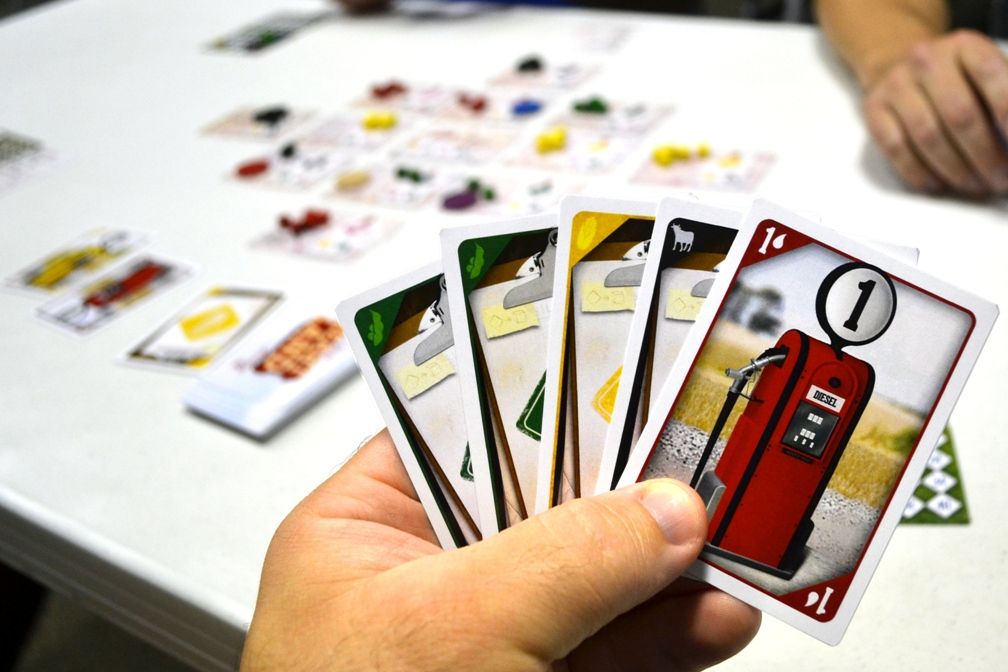 So, if you might be interested as well, go on and
check out the KS campaign
.
Other Games PlayedCan't Stop
Time:
30 minutes
Score: Chip 3, Jay* 1, James K 0, Chris 0
Ratings: ?


Commands & Colors: Ancients
Time:
47 minutes
Score: Ken – Win; Shawn – Lose
Ratings: Ken 9, Shawn 7


Hive
Time:
??
Score: Kenny & Darren* – Draw?
Ratings: Kenny 8, Darren 8


Sentinels of the Multiverse
Time:
24 & 41 minutes
Game 1: Heroes (Chris – Tempest, Darren – Haka, James K – Mr. Fixer, Jay – Wraith) Win; Baron Blade at Pike Industries – Lose
Game 2: Heroes (Chris – Tempest, Darren – Expatriette, James K – Absolute Zero, Jay – Wraith) Win; Spite in Atlantis – Lose
Ratings: ?


Sekiguhara
(Actually played on August 7)
Time: 180 minutes
Score: Britt* (Tokugama)- Win; Kenny* (Ishida) – Lose
Ratings: Britt 7.5, Kenny 7.5


* First play for that Person