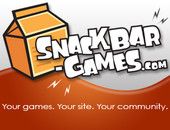 Over the weekend, I was asked to participate in an episode of the Snackbar Games podcast, which is usually focused mostly on video games, but decided to go "unplugged" this time around and get some other opinions about the non-electronic side of the gaming hobby. We talked mainly about the attraction of the boardgaming hobby in general and then got into some "gateway" games that might interest video gamers specifically.

So go and check out Episode 231: Exploring the Best of the Unpluggled World of the Snackbar Games podcast, it's pretty good, if I do say so myself.

The main host and Managing Editor of the site, Graham Russell, is a former member of my game group, and Chris Ingersoll (another contributor to the site and podcast, who regularly writes "Unplugged" reviews of boardgames for them) has been a mainstay in my group since the beginning (in fact, he hasn't missed a single Tuesday night with us since he first came on like or 3rd or 4th week). So it was a familiar and friendly group, and I had a lot of fun with them!