Wow. It's been 5 years since I first started GamerChris.com!

At this moment each year, I like to take a little time to reflect back on what I've been up to. Plus, as I maybe get into a new thing or two over the next few days and weeks, this post might be a good place to start your investigation of my blog, along with the similar articles that I've written for year 4, year 3, and year 1 and 2.

Statistics

This post is all about being a self-indulgent glorification of the last year of this blog, so let's start with some hard numbers for how many people come by and visit. Here's a graph, because graphs are cool: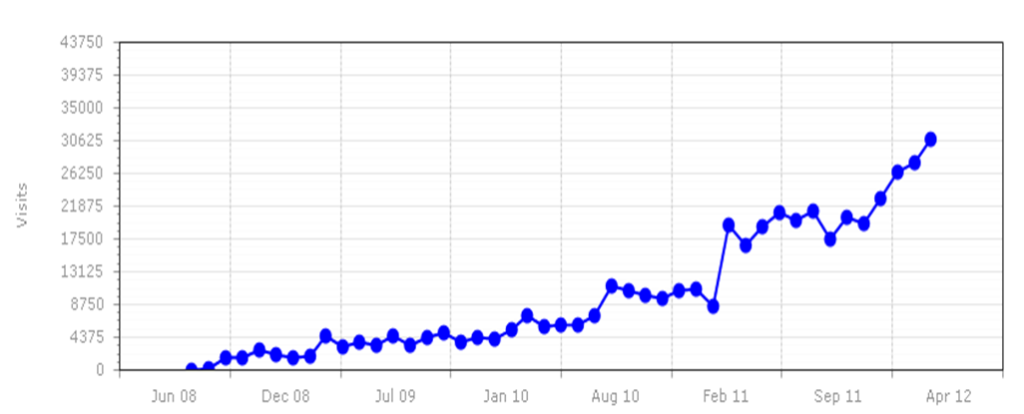 (I existed before June 2008, of course, but the system doesn't let me access back further than that)

As you can see, my visits continue to go up and up! I had a huge spike in March of 2011 (up to 19,420 visits) and soon crested over 20,000 in June. And then here in 2012, I've seen another significant upswing that took me over 30,000 (30,769 to be exact) in March of this year!
For the year as a whole, I had 271,729 total visits and over 190,000 article views. I posted 121 articles consisting of almost 153,000 words, which sounds like a lot to me. As always, these numbers sound pretty good to me, but I have no real frame of reference to similar sites, so I'll just pretend like I should feel good about them regardless of reality.

Favorite Articles


It's pretty fun for me (and you too, I hope) to read back over my contributions of the last year, and I always like to call out some of the articles that I am either most proud of or consider to be the greatest contributions to the hobby. I've broken then down into a few categories, though, to help compare apples to apples:


Recurring Posts

These articles are things that I do every year, and which usually take a lot of work to put together.
Game Night Reports

Almost every week, I write up a report about what happens at my game group, then I put the game names together to form some sort of semi-sensical headline and publish them for us and the rest of the world to see. Here are a few that I thought were particularly fun or interesting:
Reviews

Formal reviews are sort of a booger for me. I feel very strongly about them and enjoy writing them, but I put so much effort into them that I just don't do nearly as many of them as I'd like. Still, I feel like I'm getting a little better about that, and my output was at least a little better than it has been before. Here are all the reviews I wrote this past year:
Pictures

Game pictures have always been a big part of this blog, but especially since I've started my Picture of the Week series over the last few months, I thought I'd display some of my favorite and most popular images from the last year as well:

My "Best" 10 Posts of the Year"Honorable" Mention


The Z-Man Speaks! (well, technically, he writes…) (5/27/11) – This is maybe the only interview I've done on the blog, and while I was excited to do it, I just didn't think it turned out so well. Tom over at Go Forth and Game does a really good job with the email-style interviews, but I just didn't feel it was very good at all. If you did like it, enjoy it now because I don't expect to do any more interviews like this anyway on the site.
Number 10



Picture of the Week! (1/2/12-Present) – I've enjoyed this series for the most part so far. It's definitely helped me give a little more focus to the photography side of my hobby and blogging, which was the main goal. I'm a little afraid that it might feel like the blog is being taken over by it, though, especially during slow blogging periods when it seems like every other post is a Picture of the Week…
Number 9



TomG's Big Ole' Game Day! (5/10&11/11) – TomG puts on semi-regular game days at his house, and this was an especially nice one. In Part 1, I joined him and Kenny in a session of Diaspora, where I took on a planet in a social combat (and won!). In Part 2, I played Fury of Dracula and other cool boardgames!
Number 8



The True Measure of a Game (8/29/11) – I question some long-held assumptions that I and others make about what makes a game memorable.
Number 7

Number 6

Number 5

Number 4
Number 3
Number 2


The Boardgame Design Project (8/25/11-Present) – This series has (and will continue to) detailed my design process for Acute Care, my nursing-themed coop game. The six articles written so far go into design goals, developing initial rules, prototyping it, and my playtesting process. I've been a little distracted from it lately, but will hopefully see even more progress with it this coming year!
Number 1
I really appreciate all of my readers and promise to continue bringing you the same level of content that I've been working towards for this whole time. I usually have some sort of contest to go along with my blog-i-versary, but I think that I'm going to hold off for just a little while in anticipation of something else that's just around the corner. So stay tuned and come along with me for my 6th year!